Only $5.99
100% safe ordering
Money back guarantee
Lighthouse Lunacy
Boost your problem solving skill in this innovative mix of the world's first video game puzzle (which one? it's in the game!) and old school platform jumping. The comic book story of Fred, the reluctant video game mascot, and his boss, the game designer, is artfully interwoven with the actual game play and level design.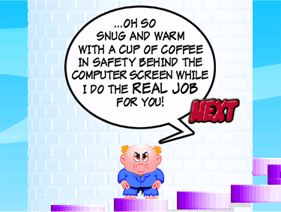 Beneath the harsh attitude Fred is, perhaps, a loveable guy. Still, he is caged behind a glass fence for a reason.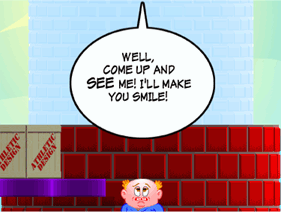 Merely a voice from above? The unsociable game designer hides somewhere inside his ivory tower and it's up to you to find him and reveal his true identity.
Not only puzzles. Some levels require a bit of dexterity, others even test your reactions. Don't worry... Fred'll help if you get stuck!


Only $5.99
100% safe ordering
Money back guarantee
System requirements: Windows 95/98/ME/2000/XP/Vista
Not sure if it will run on your computer? Just try the demo. It wont hurt the computer!