Fila Decathlon
Fila Decatlon is published by THQ and is only available for the Game Boy Advance.
Konami's 1982 formula finally improved
While superficially very similar in look and play to other Track & Field games, some genuinely innovative design makes for deeper and more durable play. Yet, the basic button bashing remains as raw and physical as ever. If you'd like to find out how we accomplished that, please read this 2002 article which was written for Gamasutra by the game designer.
Track and Field Game Mechanics by Anders Hansson.
The original article is also still availabe on Gamasutra and Game Developer, where you can find a printer friendly version as well.
Reviews
If you'd rather read some independent views on the game, why not check out the reviews instead? Here are a random bunch of good, bad, smart, and stupid ones. There are lots more – we'll add them eventually.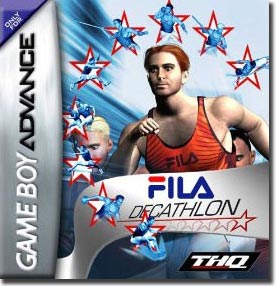 Running for the glory of the Uncanny Valley ...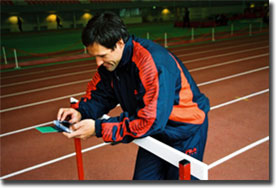 Yes, it's Olympic gold medalist Erki Nool pretending to play a Fila Decathlon prototype!
Web Reviews

Print Reviews